Kathmandu To Lukla Flight
Kathmandu To Lukla Flight
Kathmandu To Lukla Flight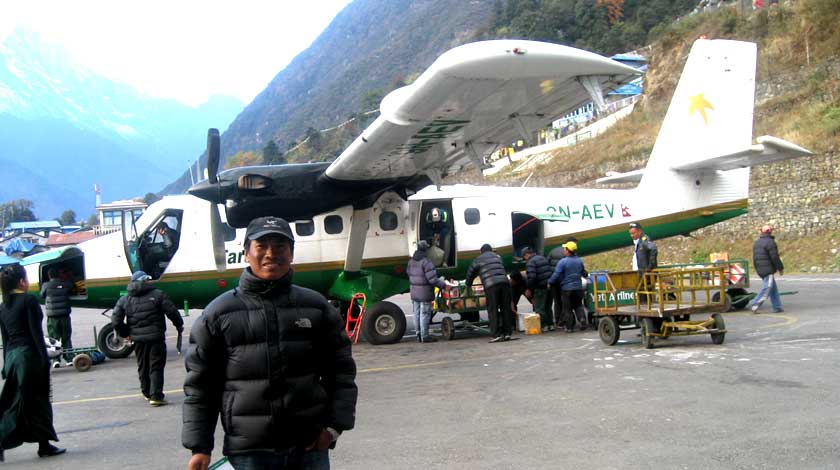 Kathmandu To Lukla Flight Tickets
The flight from Kathmandu to Lukla is a popular route for those planning to trek to Everest Base Camp or other destinations in the Khumbu region of Nepal. The flight typically takes around 30 to 45 minutes, depending on the weather conditions and the type of aircraft used.
The flight departs from Tribhuvan International Airport in Kathmandu and lands at Tenzing-Hillary Airport in Lukla, which is known as one of the most challenging and scenic airports in the world due to its location in the Himalayan mountains and the short runway.
If you want to get cheap flight tickets from Kathmandu to Lukla, then book your flight tickets with us. Our company Nepal Wilderness Trekking team offers cheap Lukla flight tickets for you to take your Everest Base camp trekking from Kathmandu, we also have Porter and Guide service from Lukla to any corner of the Khumbu trekking or climbing. There is a 139 km distance from Kathmandu to Lukla airport by Skye Trans-Himalayan route, which takes 25 minutes to fly with a panoramic view of the snowy peaks from the aircraft window as you fly from Kathmandu to Lukla.
This is the most popular airport in Solukhumbu to enter the Everest region to lead the EBC Gokyo trek, the Lukla airport, also known as Tenzing Hillary Airport. Taking a flight from Kathmandu to Lukla is the best way to reach Lukla from where trekking and mountaineering start towards the high mountains. Book cheap flights from Kathmandu to Lukla. 
Flights from Kathmandu to Lukla are not guaranteed to operate every time. The mountainous region has a high risk of flight cancellation due to unpredictable weather conditions. Moreover, the Lukla flight tickets are difficult to manage due to the limited number of flights and the high number of tourists traveling to Everest. All of our clients are advised to book their Kathmandu Lukla Everest journey tickets as soon as possible.
Many trekkers start their trek to the Khumbu region from Lukla, a small Sherpa settlement at 2,800m. The city of Lukla has become increasingly popular due to its many lodging options, shops, and opportunities to buy and rent trekking equipment. We are able to reach the exotic Khumbu region through this primary gateway, including the majestic Everest region. In clear weather, the Kathmandu to Lukla flight offers a spectacular view of 18 of the world's highest peaks, four of which are over 8,000 meters (depending on the weather conditions). 
Can I take a bus from Kathmandu to Lukla instead of flying?
There is no bus service between Kathmandu to Lukla at the moment. There is currently only one road ahead to Thamdanda via Salleri. There is no bus service between Kathmandu to Lukla at the moment. There is currently only one road ahead to Thamdanda via Salleri. you need to trek from Thamdanda to Lukla or Phagding.  for that you have to take sharing Tata Sumo Jeep to Thamdanda, then 4 hours trek to Luklaor 6 hours to access the main route of the EBC (Phakding) through an unexplored section of the Khumbu region to reach the main trekking route.
Can you drive to Mount Everest base camp?
It is true that there is a road leading up to Everest Base Camp on the north side of Mount Everest in Tibet (China). In spite of this, there is no road leading to Everest Base Camp on the south side of Everest in Nepal. As a matter of fact, a road will never be constructed to reach the Nepalese Base Camp of Mount Everest in the near future.
How much is a helicopter from Kathmandu to Lukla?
If you would like to join the group, the cost of the Kathmandu to Lukla Helicopter flight is US$ 500 per person. If you would like to have a private trip, the charter cost will be US$ 2500. A single flight of helicopter can accommodate a maximum of five passengers at a time. For the best views of the mountains, it is best to sit on the left-side window seat of the helicopter. It is important to understand that the total cost of the charter flight is shared with the total number of passengers flying at a time. In this way, the cost of the helicopter flight is flexible and can also be changed as needed. 
The cost of a flight ticket from Kathmandu to Lukla can vary depending on various factors such as the season, availability of flights, and the airline you choose. Generally, during peak trekking season (March to May and September to November), ticket prices tend to be higher due to increased fuel. present flight cost from Kathmandu to Lukla is $217 per person per way.
Please click this booking form. For the tickets WhatsApp us at +9779849693351 for more information. We feel pleasure to help you to book your flight tickets in advance and to provide a guide and porter for Everest region trekking.
---