How hard is it to climb Mount Everest
How hard is it to climb Mount Everest
How hard is it to climb Mount Everest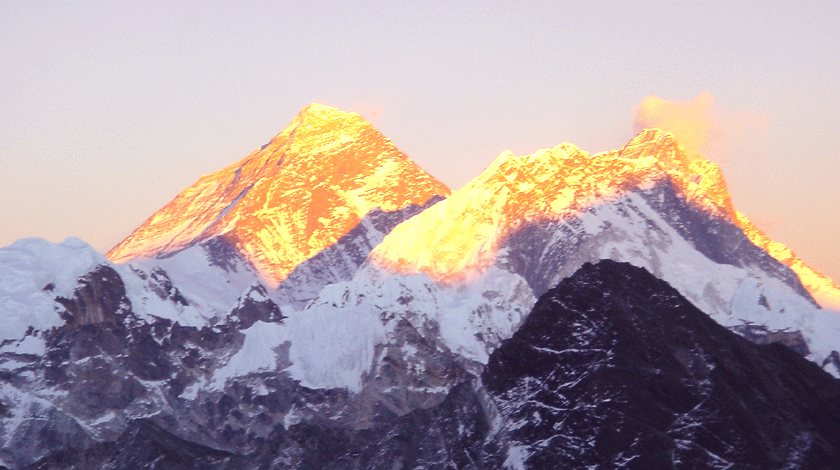 How hard is it to climb Mount Everest?
Climbing Mount Everest is difficult. Anyone who dreams of climbing Everest (8848 m) should consider it a dream come true. You have the opportunity to experience an incredible adventure on the world's highest mountain Mt Everest. The extreme difficulty level of Everest mountain also adds value to the adventure. A trek to Everest Base Camp (5,100m) is also required before the ascent Top. Most climbers trek the Renjo La pass and Chola pass as acclimatization, then spend several nights in Gokyo valley, summit Gokyo Ri, Kala Patthar, and then trek to Base camp.
Equipment for Everest Climbing
The use of mountaineering equipment such as fixed ropes, crampons, carabiners, jumars, ascenders, etc. is also required. Khumbu icefall, also called 'suicide passage', is one of several dangerous sections of this mountain. Altitude sickness and steep incline climbing pose several challenges.
Because of their assistance, there will be no need to pull back with fixed lines. The climb to the top from the summit ridge is short and easy. The more time you spend in the Himalayas, the more likely you are to succeed. Acclimatization and adaptation to the weather and climatic conditions will ensure a successful ascent.
Climbing the highest mountain in the world is no easy feat. Risks and dangers associated with the climb must be taken into account by climbers. So, we have listed all the challenges you will face during the Mount Everest expedition. Read on to learn how hard it is to climb Mount Everest and other relevant details.
Elevation or High Altitude
Mount Everest rises to an altitude of 8848m above sea level. Lukla's airport lies twice the height of Kathmandu's. On the trail, the elevation increases by 600-800 meters per day, and the level of oxygen decreases. When not treated in time, acute mountain sickness caused by increasing altitude can be fatal. You will benefit from taking acclimatization breaks in the middle of your journey.
The effects of altitude sickness
hard to Climbing Mt Everest. Altitude sickness is one of the most critical factors to consider when climbing Everest. It is caused by low oxygen levels and low air pressure, which negatively affects your health. As you ascend the trail, there is less oxygen in the air. Climbers generally need additional oxygen in Death Zones above 8,000 meters because of the low oxygen levels.
Acclimatizing
Acclimatization is crucial before beginning a trek and expedition in the Everest region. Altitude sickness can be managed by walking slowly and not rushing. During a trek, you should drink plenty of water to prevent dehydration. The first-time trekker, who has never done an altitude hike before, can prepare in this way. A variety of acclimatization techniques can be used to combat altitude sickness.
How much does Everest Summit cost?
Depending on the local agency and the services they provide, climbing Everest cost could be between $35,000 to $100,000, so it is essential that you make sure that the local agency you choose is properly registered with the government of Nepal before you decide to go. Previous reports indicate that each person paid $39,000 to climb Mount Everest.
Long duration 60 days
Preparation for an Everest expedition typically takes two months or 60 days. It has many challenges, including extremely cold temperatures, low freezing temperatures, and difficult climbing conditions. The mountain summit is only reached and returned after a long, tough journey.
Everest expedition season usually begins in late March. When you arrive at Everest base camp after taking a flight to Lukla, they begin. Before arriving at EBC, we trek through Phakding, Namche, Tengboche, Dingboche, and Gorakshep. The expedition begins at the Southern Everest Base Camp (5,300 meters).
Climbers must contend with ice and its shifting maze. During their journey, climbers will acclimatise at different camps. After acclimatizing at the base camp for four to five days, they climb halfway above the Khumbu glacier. Afterwards, they ascend up to camp 1 after several days of acclimatization.
The climbers will acclimatize at camp 1 for two nights before returning to base camp because of hard to ascent faster. The purpose of this is to make sure they get adapted to the high-altitude conditions of the Everest region. After returning to camp 1, they spend a night there before ascending to camp 2, which is at the base of Mt. Lhotse.
Climbing, acclimatizing, and then descending prepare you for the summit climb. Getting to the summit takes you to an altitude above 7925 meters, which is also known as the "Death Zone". Mount Everest expeditions take around 2 months due to the high level of risk.
In a typically guided trek before an expedition, you will cover about 15km per day. The terrain is quite rocky and rugged and can get snowy at times. Generally, you will gain altitude while hiking in this region. Your luggage is transported by porters along the trail. Thus, you should prepare for the trek to Everest Base Camp.
From Everest Base Camp to Everest Summit
There are also quite a few snowstorms near the summit, so you should take that into consideration. The region continues to experience unpredictable weather. Before you start your adventure, consider the weather forecast and don't ignore warnings.
Landing and taking off from Lukla can also be difficult due to unpredictable weather. Flight cancellations and delays are common. In the past, severe weather could often leave travellers stranded at airports.
Every hundred meters of gain in altitude results in a 0.65 degree Celsius decrease in air temperature. A temperature difference of 57 degrees Celsius is found at 8,800m in comparison to sea level. That makes Mount Everest's summit one of the coldest places on earth. Ascendants will face freezing temperatures at night and sunlight reflecting off mountains' snow during the day.
The weather at Everest Base Camp is unpredictable and challenging. In the daytime, you might experience the extreme temperature range at EBC. In the Everest region, the nights are much cooler than the days. Base camp temperatures hover around -12°C. In spite of this, the Base Camp can get up to 15 degrees Celsius and has winds up to 6 mph.
Issuing avalanches
Avalanches are also common on Everest. There are specific areas where they are more prevalent. There are three routes to Mount Everest, the North Col, South Col, and Khumbu Ice Falls, also known as the "Suicide Passage". To reach the summit, they must cross over.
Although you cannot skip these, you can minimize the time spent on them. Early in the morning, cross before the sun has warmed the snow. The Southeast route from Nepal can be hazardous because of falling ice and rocks. Near the Khumbu Ice Falls and near the South Col beneath the Lhotse Face, there are avalanche-prone areas.
Falls
Falling is one of the most dangerous aspects of climbing Mount Everest. It is also one of the leading causes of death on Everest. When climbing high ridges and in higher camps, are dangerous.
It is risky to leave the tent on the ice-covered ground when the ground is dark and covered with snow. Keeping footwork, double-checking knots, and using carabiners are essential steps for climbing Mount Everest. Prior experience on snow and ice is also important.
Crevasses
If climbers are careless, crevasses can swallow them. The Khumbu Ice Falls and Western Cwm are on the Nepalese side.
Mount Everest is difficult to climb without training
Mt Everest requires extensive training at least six months before the expedition. This journey is preceded by a trek to Everest Base Camp, which makes it even more challenging. Spending some time in a gym and hiring a personal trainer will help you immensely to climb. A serious expedition such as Mount Everest requires proper preparation.
As soon as possible, you can begin training. It is vital to perform exercises that build your fitness, strength, and stamina. Exercises like running, hiking, cycling, swimming, and so on, will greatly benefit you. Gaining desirable fitness levels can also be achieved through lightweight training. Hiking up and downhill increases lung capacity and builds stamina.
Fever at the summit
When you struggle in the mountains, you have a real temptation to push on. Putting so much effort into high-altitude conditions and the dangerous slopes of Mount Everest can result in increased risks and challenges.
Climbers can set a "turn around time" so that they will know when to stop and head back down. When setting your time, be realistic and head back no matter how close you are to the summit. A great way to stay motivated during the climb is to stay motivated about being on the mountain.
Keeping these things in perspective will make finding your way less challenging, as well as stop them from getting carried away. You can lose your life at the high altitudes of the Everest summit if you are not trained professionally.
Improper Diet
Before embarking on an expedition, you should consider your diet. A poor diet can also lead to food poisoning, causing climbers to return to Kathmandu. For trekking, it is essential to consume the right kind of nutrition.
Due to Buddhist beliefs, it is not allowed to slaughter animals in the sacred Everest Region. To bring the meat to higher altitudes, yaks or porters must transport it from Lukla to upper altitudes via flight. Due to the lack of proper refrigeration, food poisoning is common and you should avoid eating meat items along the trail.
There is a typical Nepali meal called "Dal Bhat" that is quite common along the trail, which includes rice, dal (pulses), lentils, vegetables, spinach, and pickles. Taking dal Bhat with you on your journey is a healthy and nutritious choice. If you want to drink water along the trail, you can fill up at tea houses and carry water purification tablets.
You should also carry proper snacks for munching on during the trek, such as protein bars, snickers, chocolate bars, and vitamin supplements. If you are a picky eater, these snacks will help you on your trek to get the proper nutrients. Hiking.
For more info
WhatsApp: +9779849693351
E-mail: himalghale99@gmail.com
---