Emily L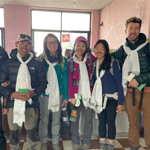 The best of the best are Himal and Riddhi! If you are looking for an agency that can help you plan your Nepal hiking trips, I highly recommend Nepal Wilderness Trekking. We did the 3 Passes Trek, and I have to say, that this is by far the hardest trek that I have ever done, however, it is also the most rewarding.
We are really lucky to have Riddhi as our guide, and the two porters taking care of us the whole time we are in the mountains. There is no doubt that Riddhi is considerate, caring, and has a wealth of knowledge about the area in which he lives. As a result, I really appreciate that he constantly makes sure we have a good time by adjusting our pace and itinerary to ensure we are having a good time.
The purpose of this comment is to thank Himal, Riddhi, and the two porters for their hard work in making this 17-day three passes trek so special to me and memorable for me.