Govert v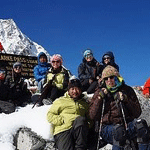 Trekking the Manaslu Circuit with Nepal Wilderness Trekking 
We completed the Manaslu Circuit trek with Suk Bahadur Ghale as a guide and Rack Lama as a porter. In our case, we didn't take an all-inclusive package but only booked a guide and a porter and then arranged the permits.  Email contact with the owner, Himal Ghale, was pleasant and prompt.
Upon our arrival, the permits were arranged quickly, and we were helped with other needs like renting sleeping bags and getting a local SIM card. During the trek, our guide Suk was excellent at guiding us. He has a good understanding of the trial. His coaching skills were excellent during the tougher times. He was always there to help when things got tricky (such as landslides). At the teahouses, he was always on top of things, so we never had to worry about ordering food or paying bills. I found him to be honest and humorous. 
Besides carrying our stuff and singing Nepalese songs, Rack also acted as a guide and assisted Suk with everything we mentioned. For us, it was like having an extra guide. Other people we tagged along with joked that they wanted to trade guides and porters with us. Because Suk & Rack were more of a help to them than their own guide! 
The only thing less positive is that they both beat us too much at the card game we taught them. 
All of them are highly recommended.