Lex and Kerry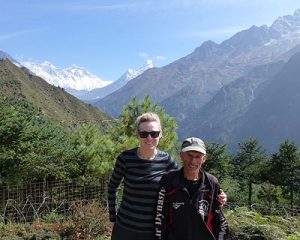 Three pass trekking
We used the Nepal Wilderness Trekking company for a 19 day "3 Pass Trek" in the Everest region, in October 2012. Himal Ghale, the owner, was highly knowledgeable about the Everest Region having worked there as a Guide in the past.
Himal organized a tailor-made itinerary for us, based on our interests, abilities and time commitments.
That is included the "3 Passes" route, Everest Base Camp and Kala Pattar, and the addition of a summit of Island Peak. Himal was very responsive in answering our initial questions (remotely), meet with us in Kathmandu, and dealt with some challenges that arose from unforeseen weather conditions.
We were also delighted with our assigned Porter/Guide – named "BB." BB provided first class support to us throughout the trek and lived up to his reputation as a reliable and highly experienced Porter/Guide. Amazingly, BB had competed over the past eight years in the Tensing/ Hillary Everest Marathon!! He knew the region exceptionally well, including the many route variations and options we could take for different terrain/altitude, and chose excellent guest houses for us to stay at BB was well known, respected and welcomed by guest house proprietors along the way. He was also a very kind and caring gentleman – we will always remember BB with great fondness, respect, and gratitude for a wonderful trekking experience.
We wish Himal well over the future years and would recommend the Nepal Wilderness Trekking company to other trekkers for the Everest region.