Rob DeVaun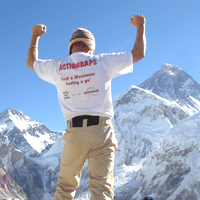 Everest Base Camp Trekking Reviews
Heidi and I think back to our trek to Everest base camp and wish to return in the future. Your service was perfect, and we couldn't have been happier.
We want to write a testimonial for you, your company, and for Ambar. Should we write the testimonial in an email to you, or should we write it somewhere on your website? What is your site? I lost the information on my travels.
Lastly, I have some pictures that I would like printed and sent to Ambar. I would be happy to pay for the cost of writing the images, and any price associated with having them shipped to Ambar. Could you help us by having them printed locally and sent?
Thank you again for the fantastic experience.
Rob DeVaun