Samikshya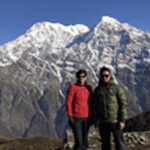 My partner and I trekked to Mardi Himal (base camp at 4500m and viewpoint at 4200m) for four nights and five days. This trek was organized by Nepal Wilderness Trekking. Using Google, I located Nepal Wilderness Trekking and contacted Mr. Himal, the owner of the company, via the telephone number provided on the website. In terms of communication, Mr. Himal was responsive, sent us an itinerary promptly, and was accommodating to our needs. When we arrived in Kathmandu, we felt very well taken care of: all our questions were promptly answered. The travel agent booked numerous bus tickets for us based on our text messages, which he would book for us and we would pay directly at the bus station- which was stress-free and relaxed.
On the day of the trek, we were accompanied by our guide, Mr. Rajesh, and porter, Mr. Dhan. I was very impressed with the guide, Mr. Rajesh. He met us at the hotel in Pokhara the day before the hike to make sure we were familiar with the list of things we would need, and prepared us mentally for the trek and what to expect. I have to say that he was always thinking along with us during the trek and he was caring both during the breakfast, lunch, and dinner time and in the accommodation cottages in the evening, arranging extra blankets for me because I tend to get cold easily. As we ascended, we did not know much about the drinking water situation, so he helped us prepare extra bottles of water. He made sure we bought enough bottles at the hills while we were still able to. It is likely that he even prepared food from the menu in one of the rest areas since it would have taken the cook longer to travel to that place. In the evening on the last day when we were exhausted and were dragging our last reserves (very sore muscles), he evaluated the situation and arranged for a jeep for the last 1.5 hours. Our guide, Mr. Rajesh, proved to be very knowledgeable and had plenty of experience trekking above 6000 meters which was evident by the way in which he took care of us. Also, we appreciated Mr. Rajesh's calm energy, who wasn't around all the time, but enough to let us explore the trail.
Overall, it was a great experience. The views were spectacular, the trip was breathtaking, and Rajesh and Dhan were fantastic! He is also a very kind and reasonable person who offers competitive prices for high-quality trekking. This company and their team are highly recommended for trekking.