sian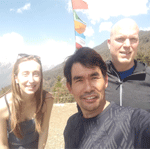 My Mardi Himal 5 day trek was a memorable experience. Our guide and porter made the trek as smooth as possible by looking out for us. I felt that the trek length was ideal given my limited time and provided the most incredible views of the mountains. There was delicious food, clean tea houses, and challenging but manageable hiking.
I recommend bringing a head torch and a book when hiking to the viewpoint for sunrise. This is because the hike can finish by 2 pm and the route is quiet at the moment!
I highly recommend Nepal Wilderness Trekking as a thank-you for an amazing experience.