Abinta Raut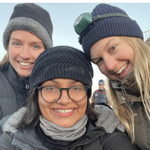 Allow me to introduce Abinta Raut, a remarkable female trekking guide from Nepal. Born and raised in the Old City of Kathmandu, in the Bhaktapur district, Abinta began her journey in the trekking industry at a young age, working as a porter when she was just 16 years old. Her early experiences ignited her passion for trekking and mountaineering, leading her to pursue a career as a guide.
With over a decade of experience, Abinta Raut has become one of the most esteemed and respected female trekking guides in Nepal. Throughout her career, she has successfully led numerous treks and expeditions in the majestic Himalayas. Her clients consistently praise her professionalism, expertise, and positive attitude. They admire her ability to navigate challenges that may arise during the trek, ensuring a safe and memorable experience for all.
Beyond her guiding role, Abinta is a passionate advocate for women's rights and empowerment. She firmly believes in equal opportunities for women in all fields, including trekking and mountaineering. Abinta actively engages in mentoring and supporting young women who aspire to pursue careers in these fields, encouraging them to break through gender barriers and defy stereotypes. Through her guidance and mentorship, she strives to empower more women to embrace their passion for the outdoors and pursue their dreams fearlessly.
Abinta Raut exemplifies the spirit of resilience, determination, and empowerment. Her dedication to her profession, her clients, and the advancement of women's rights is truly inspiring. As a trailblazer in the industry, she is paving the way for future generations of female trekking guides in Nepal.
We salute Abinta Raut for her achievements, her commitment to excellence, and her efforts to create a more inclusive and empowering environment for women in trekking and mountaineering.
Namaste, and may Abinta's story inspire us all to follow our dreams and overcome any obstacles that come our way.