Abinta Raut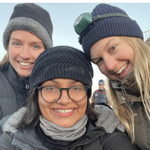 Abinta Raut is a female trekking guide from Nepal. She grew up in the Old city of Kathmandu in the Bhaktapur district of Nepal and started working as a porter at the age of 16. Over the years, she developed a passion for trekking and mountaineering and decided to become a guide.
Abinta Raut is now one of the most well-known and respected female trekking guides in Nepal. She has been working as a guide for over a decade and has led numerous treks and expeditions in the Himalayas. Her clients praise her for her professionalism, expertise, and positive attitude, as well as her ability to handle any challenges that may arise on the trek.
Abinta Raut is also a strong advocate for women's rights and empowerment. She believes that women should have equal opportunities in all fields, including trekking and mountaineering. She is actively involved in mentoring young women who are interested in pursuing careers in these fields and encourages them to overcome gender barriers and stereotypes.