Bimal Basnet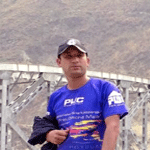 Bimal Basnet!
It is a pleasure to meet you. As a resident of the Solu-Khumbu district, your connection to the magnificent Himalayan region of Nepal is truly special. Since 2001, you have dedicated yourself to the trekking and tourism industry, gaining valuable experience as both a trekking guide and a tour guide.
Your training as a Government Guide in 2001 and possession of a trekking guide license showcase your dedication to professionalism and expertise in the field. Your extensive experience spans various trekking regions in Nepal, allowing you to navigate and guide trekkers through the diverse landscapes and cultural wonders of this beautiful country.
The Nepalese Himalayan region holds a special place in your heart, and you spend a significant amount of time working in these awe-inspiring mountains. Your knowledge and familiarity with popular trekking areas such as Annapurna Base Camp, Dhaulagiri Circuit, Throng La Pass, Tilicho Meso Kanto La Pass, Mustang, Saribung Pass, Manaslu Circuit, Ganesh Himal, Langtang, Helambu, Gosaikunda, Ganjala Pass, Everest Base Camp, Rolwaling Tashi Lepcha Pass, Sherpani Col, Kanchenjunga, and many more are testament to your well-rounded expertise.
Your commitment to the Nepal Wilderness Trekking Pvt. Ltd. showcases your dedication to providing exceptional trekking experiences for your clients. By immersing yourself in the diverse landscapes, rich cultural heritage, and natural wonders of Nepal, you are able to create unforgettable journeys for those who venture with you.
I commend your passion and dedication to the trekking and tourism industry. Your extensive experience and knowledge of the Himalayas make you a valuable asset to anyone seeking to explore the wonders of Nepal.
May your future endeavors continue to bring joy, fulfillment, and unforgettable experiences to both you and your clients.
Namaste, and I wish you all the best on your trekking adventures!