Chandra Rai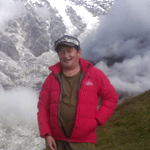 Chandra Rai, hailing from the picturesque Solu Khumbu district within the Mahakulung Rural Municipality, specifically from the enchanting Bung village, boasts a wealth of experience as a trekking guide in the Nepalese Himalayas. His journey in the tourism industry commenced in 2008, and since then, he has passionately and skillfully navigated the diverse landscapes of the Himalayas, providing invaluable guidance to trekkers seeking to explore this awe-inspiring region.
Raised in the heart of the Himalayas, Chandra developed an intimate connection with the mountains and a profound understanding of the local culture. His roots in the Solu Khumbu district have equipped him with not only the requisite knowledge of the terrain but also a deep appreciation for the traditions and customs of the region.
Over the years, Chandra has honed his skills as a trekking guide, gaining a reputation for his reliability, professionalism, and friendly demeanor. His extensive experience allows him to tailor trekking experiences to the preferences and capabilities of the diverse range of trekkers he accompanies.
Beyond being a seasoned guide, Chandra takes pride in sharing the rich cultural heritage and natural wonders of the Nepalese Himalayas with those who embark on these journeys with him. His commitment to sustainable and responsible tourism ensures that the beauty of the Himalayas is preserved for future generations.
Whether navigating the rugged trails of the Everest region or exploring the serene landscapes of the Annapurna Circuit, Chandra Rai brings not just a guide's expertise but a genuine love for the Himalayas, making every trek an unforgettable adventure for those fortunate enough to explore this breathtaking terrain under his guidance.