Kaman Ghale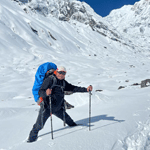 Hello there! I'm Kaman Ghale, and I come from the lovely Nuwakot district in Nepal. Specifically, I live in Bhalche village, part of Kispang Rural Municipality Word No. 1. I've been working as a trekking guide in Nepal since 2002, exploring various trekking regions across the country. My official license number is 3525, which reflects my experience and commitment to ensuring a safe trekking experience.
Since 2020, I've been proud to be associated with Nepal Wilderness Trekking, a reputable name in the industry. This collaboration allows me to continue doing what I love while contributing to responsible tourism practices.
As your guide, my aim is not just to lead you through Nepal's beautiful landscapes but also to share insights into the local culture, traditions, and the importance of the places we visit. Whether you're a seasoned trekker or a first-timer, I'm committed to creating a memorable experience tailored to your preferences.
Join me, and let's explore the stunning peaks, lush forests, and friendly villages that make Nepal special. I'm excited to share the wonders of this land with you and create lasting memories. Namaste!