Manoj Tamang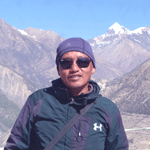 Greetings!
Allow me to introduce Manoj Tamang, an experienced and well-trained trekking guide hailing from the remote village of Dhuseni in Ward No. 3 of Dhading District. Manoj's childhood was spent amidst the rolling hills of Dhuseni and Ri villages, located in the picturesque Ganga Jamuna Rural Municipality. It was during this time that his deep connection with the Himalayas began to flourish.
Manoj's passion lies in exploring the wonders of the Himalayas, with a particular focus on the Tamang Heritage Trails in the Langtang region. His expertise and knowledge of this area are unparalleled, and he takes great pleasure in guiding trekkers through the pristine trails that reveal the cultural richness and natural splendor of the region. Additionally, Manoj has a keen sense of adventure and thoroughly enjoys activities such as hiking, climbing, and other uphill endeavors.
When you trek with Manoj, you are not merely embarking on a journey through breathtaking landscapes; you are delving into the heart of the Tamang culture and history. The Tamang people have a vibrant heritage that spans centuries, and Manoj will ensure that you gain a deep understanding of their traditions, customs, and way of life. It is a truly immersive experience that allows you to connect with the local community and appreciate the rich tapestry of Nepalese culture.
Nepal, with its abundant natural beauty and eco-tourism opportunities, beckons you to embark on a trekking trip with Manoj Tamang. Together, you will discover hidden gems, traverse magnificent trails, and witness the allure of the Himalayas. Manoj's expertise and guidance will ensure your safety, comfort, and an unforgettable adventure that will leave a lasting impression.
We extend a warm invitation to visit Nepal and explore the wonders of eco-tourism while immersing yourself in the cultural heritage of the Tamang people. Let Manoj Tamang be your trusted guide as you unravel the mysteries of this captivating land.
Plan your trip, pack your enthusiasm, and get ready to embark on an extraordinary journey through the Himalayas with Manoj Tamang as your companion.
Welcome to Nepal!
Namaste!