Puja Karki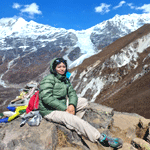 Greetings to all!
My name is Puja Karki, and I come from the picturesque Dudhkoshi 3 in Solukhumbu. Holding a Government training license with license number 19559, I proudly serve as a guide for Nepal Wilderness Trekking Pvt. Ltd. As a female guide, I am dedicated to providing exceptional trekking experiences in the beautiful landscapes of Nepal.
Over the years, I have become intimately familiar with some of Nepal's most renowned trekking destinations. I have trekked to the captivating Annapurna Base Camp, the stunning Mardi Himal, the breathtaking Poon Hill, and the enchanting Langtang Valley. These regions hold immense natural beauty, cultural treasures, and unforgettable moments that will leave you in awe.
As a licensed guide, I prioritize your safety, comfort, and enjoyment throughout our journey together. I am committed to sharing my knowledge and passion for the landscapes we traverse, offering insights into the local culture, traditions, and history along the way. With each step we take, I aim to create a memorable and immersive experience for you.
Join me as we embark on a trekking adventure filled with wonder, exploration, and personal growth. Together, we will witness panoramic vistas, encounter warm-hearted locals, and forge lifelong memories in the embrace of Nepal's majestic mountains.
Nepal Wilderness Trekking Pvt. Ltd. and I eagerly await the opportunity to guide you through the incredible landscapes of Annapurna, Mardi Himal, Poon Hill, and Langtang Valley. Let's create an unforgettable journey together!
Thank you for considering me as your guide, and I look forward to welcoming you to the captivating wonders of Nepal.
Namaste!