Yakub Ghale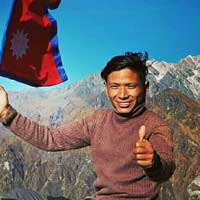 Namaste!!!
I am Yakub Ghale, born in the captivating Ruby Valley, nestled in the embrace of the majestic Ganesh Himal in the northern part of Nepal. Growing up in this beautiful trekking destination has instilled in me a deep appreciation for the wonders of nature.
Education has played a crucial role in shaping my understanding of the world. I completed my schooling in Kathmandu, the capital city of Nepal. For my intermediate education, I pursued Tourism & Hotel Management, recognizing the close connection between tourism, hospitality, and the exploration of society. Additionally, I furthered my knowledge by obtaining a degree in Sociology & Journalism, which has enriched my understanding of various cultures and the power of storytelling.
My journey in the field of tourism began in 2012 when I started working as a trekker, fulfilling roles as a porter and assistant guide. This experience ignited my passion for trekking and inspired me to delve deeper into the profession. In 2015, I obtained my trekking guide license from the Nepal government through the esteemed organization TAAN (Trekking Agencies' Association of Nepal).
Trekking is not only a profession but also a profound passion for me. Exploring the diverse and famous trekking trails across Nepal has brought me immense joy and fulfillment. Every step on these trails is an opportunity to immerse myself in the natural beauty, cultural heritage, and spiritual richness that Nepal has to offer.
For several years, I have had the privilege of working with Nepal Wilderness Trekking Agency, an organization committed to providing exceptional trekking experiences. To our valuable clients from around the world, I extend a heartfelt welcome. Join us at Nepal Wilderness Trekking, and together, we will create memories that will last a lifetime.
With my knowledge, experience, and genuine love for the mountains, I am dedicated to ensuring that your trip to Nepal is nothing short of extraordinary. Whether you choose to explore the mesmerizing Annapurna region, venture to the Everest Base Camp, or discover other iconic destinations, I will be there to guide you, share insights, and ensure your safety throughout the journey.
Nepal is a land of enchantment, where nature's beauty intertwines with the vibrant tapestry of cultures. It is my privilege to be your guide as we embark on this incredible adventure together.
Once again, a warm welcome to Nepal Wilderness Trekking. Let us embark on a journey that will leave an indelible mark on your heart and soul.
Namaste and see you soon in Nepal!
Yakub Ghale