Paragliding in Pokhara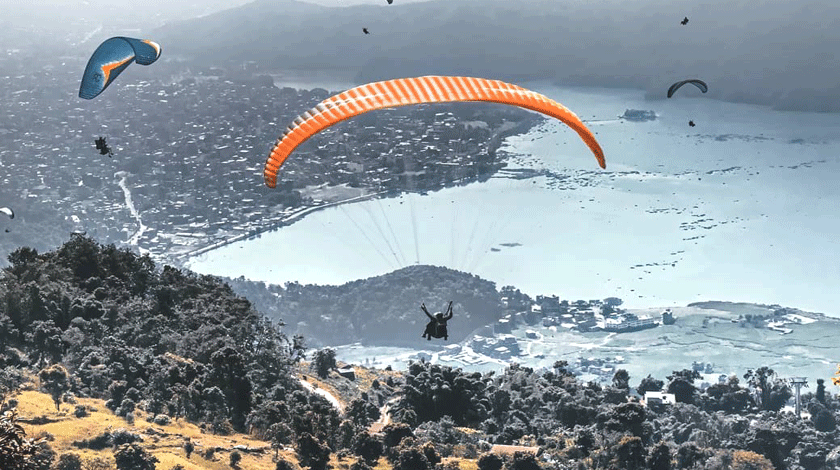 A Thrilling Nepali Adventure by Paragliding in Pokhara
Paragliding is a distinctive and thrilling activity that the city of Pokhara offers to thrill-seekers who are interested in seeing Nepal's stunning surroundings. Pokhara, often known as the "Adventure Capital of Nepal," is well known for its imposing mountains, tranquil lakes, and welcoming residents. A thrilling and heart-pounding adventure, paragliding in Pokhara offers a rare chance to view the breathtaking Himalayan landscapes from a bird's eye perspective.
The Best Place to Go Paragliding in Pokhara
Pokhara is a top site for paragliding because of its advantageous location in the Annapurna area. The gorgeous landscape of the city is lined with alluring lakes and encircled by soaring peaks, such as the Annapurna and Machhapuchhre (Fishtail) ranges. For those who prefer paragliding, these natural elements provide the ideal setting that you will always treasure. Words cannot express the sensation of soaring like a bird above the magnificent landscapes below. Pokhara offers a variety of opportunities for seasoned paragliders. teeming with floral blooms, adding to the allure of the landscape.
After the monsoon rains, the skies are clear during the post-monsoon (fall) season, which lasts from September to November, and the mountains are covered with a variety of green hues. This time of year has exceptional visibility and provides the best possible views of the Himalayas.
Tourism with integrity and local effects
Responsible tourism is crucial in adventure sports as well as other travel-related activities. Make sure you select a paragliding operator who promotes environmental sustainability and the well-being of local communities when you go paragliding in Pokhara.
Responsible paragliding operators minimize their negative effects on the environment and uphold moral standards. They place a high priority on safety, both for their customers and for the local wildlife and flora. By following standardized Operators work to minimize disruption to wildlife and preserve the beauty of the terrain through their choice of flight paths and landing zones.
Responsible business owners also contribute to the neighborhood by sponsoring charitable causes and creating job opportunities. To advance healthcare, environmental protection, and education, they frequently work with regional NGOs. By selecting such tour guides, you can be certain that your experience will benefit the community and the residents of Pokhara.
After completing the Annapurna Base Camp, Mardi Himal, or Poon Hill treks in Nepal, many trekkers enjoy the thrill of paragliding over the stunning landscapes. It offers a unique and unforgettable experience from the skies
An Exciting and Safe Activity
The dedication to safety is one of the main reasons paragliding has grown in popularity in Pokhara. Strict international safety standards are followed by reliable paragliding businesses in the area, who make sure that all necessary safety measures are performed prior to takeoff.
To provide the best flying circumstances, skilled pilots perform extensive safety inspections of the equipment and evaluate the weather before each trip. The pilots have years of experience flying above Pokhara and are well-trained and qualified. Participants get confidence from this degree of professionalism and knowledge, which also makes the entire experience worry-free.
Paragliding in tandem is the most popular method.to embark on this exhilarating journey, especially for novices. In tandem flights, a professional pilot controls all flight-related technical details while you concentrate entirely on having fun. You experience a rush of exhilaration as the glider takes off, knowing that you are about to set out on a voyage unlike any other.
Discover the Joy of Freedom
paragliding in Pokhara As you effortlessly soar through the skies while you experience a special sense of freedom and tranquility. A close relationship with nature is forged by the sense of wind in your face, the experience of weightlessness, and the lack of loud motors. You'll undoubtedly feel energized and alive after experiencing this unmatched adventure.
Himalayan thermals, rising warm currents experienced paragliders, flying through the air is a thrilling experience. Pilots can increase their altitude, increase the length of their flight, and provide stunning vistas of the surrounding area by riding these thermals. Pokhara's demanding thermals and cross-country flying prospects will test your abilities and provide you with an unrivaled sense of accomplishment if you're looking for an adrenaline rush and a chance to exceed your boundaries.
All Skill Levels are Acceptable
Everyone can find something to enjoy in Pokhara, regardless of your level of experience in paragliding or level of adventure. For people who are new to flying or prefer a more laid-back experience, tandem flights are ideal. The tandem paraglider is made to comfortably carry two people, with the pilot in control as you take in the spectacular scenery.
Conclusion
It's a once-in-a-lifetime opportunity to escape the limits of the ground and take in the spectacular majesty of the Himalayas by paragliding in Pokhara. This adventure sport promises to permanently engrave treasured memories in your heart since it combines safety, adventure, and magnificent surroundings. thus if you're looking Head to Pokhara and embark on a thrilling adventure that will leave you breathless and craving more. It will be an adrenaline rush and an unforgettable journey.
Pokhara is the ideal location for an amazing paragliding experience, whether you're a beginner or an experienced flyer thanks to its diverse and enchanting scenery as well as its dedication to safety and responsible tourism. So, in the heart of the Himalayas, spread your wings and let the wind take you to new heights.
---