Pokhara to Mardi Himal distance
Pokhara to Mardi Himal distance
Pokhara to Mardi Himal distance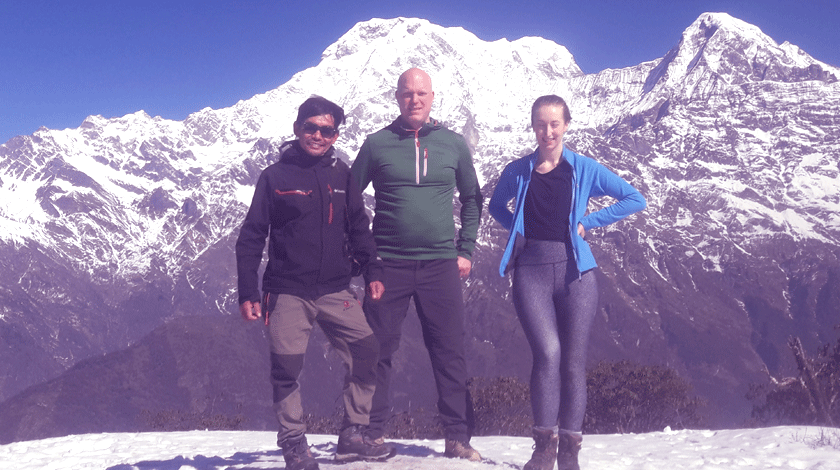 Pokhara to Mardi Himal distance
Pokhara to Mardi himal base camp distance is 31.0 km 19 Miles in a single way, but the hiking total round distance is 57 km and 35 miles. Mardi Himal trek is a 5-day itinerary in general, the Mardi Himal Trek begins from Kande, The distance from Pokhara to this point is 27 kilometres. The trekking trail leads to Australian Camp, Pitam Deurali, Forest Camp, Low Camp, Middle Camp (Badal Danda), High Camp, and ultimately to Mardi Himal Base Camp. After that, it retraces its steps and diverges from Low Camp to Siding Village. 
Mardi Himal trek is regarded as a hidden gem among trekkers. being one of the most popular treks in the area, this trek leads to the base camp of Madri Himal next to the mighty Machhapuchhare. To climb out of the forest, you must climb an elevation of approximately 4,500 feet from small winding paths leading to impressive forests. Wandering through the oak and rhododendron forest, an impressive panorama of silvery mountains opens up that will hold your breath for a moment.
However, the landscape suddenly changes from beautiful forests to rugged mountains, including Mardi Himal, Annapurna south, Machapuchre, and Hiunchuli. There is nothing like the Mardi Himal trek to quench your thirst as it offers an idyllic trekking display of off-the-beaten-track trails leading you to the mystical environs of Annapurna.
Currently, tea house facilities are available along the route. This trek takes 5 days to complete a 57-kilometre distance. The difficulty level of this trek is categorized as moderate. A trek to the Mardi Himal base camp reaches a maximum elevation of 4,500 meters. Mardi Himal is best visited between March and May and September to December. In addition to the peace and tranquillity that nature provides, it will be a memorable trip.
Pokhara to Mardi Himal trek offers stunning views of high alpine pastures, traditional and picturesque villages, lush valleys, grassy meadows, plundering waterfalls, roaring rivers, and the untouched culture of the Gurung people. You may also encounter wildlife such as Himalayan Thar, musk deer, spotted deer, barking deer, snow leopard, and many others.
The 5 days of Mardi Himal Trek Cost: USD 400 Per Person
A trek during the autumn season:
September, October, and November are the months during which this season occurs. Since it is the post-monsoon period in Annapurna Region, this is the best time for you to participate in Mardi Himal Trek. During the trek, you will be greeted by a lot of rhododendrons and oak trees in the Mardi forest. There is a crystal clear sky and the temperature is between 10 and 20 degrees Celsius during this season. During the day, the temperature is around 20 degrees Celsius and can drop to 10 degrees Celsius at night. The trails in Mardi Himal may not be wet and muddy during autumn. Since the weather and temperature of the Annapurna region are favourable and suitable, you may not need to carry a lot of warmer clothing. For the trek, the limited number of clothes is sufficient.
Trekking during the spring season:
March, April, and May are the months in which this season occurs. This is the best time of year to experience Nepal's lush greenery. With the onset of this season, there are a variety of plants and flowers growing and it is time to change the surroundings so that they are clean and fresh for the purpose of the Mardi Himal trek. This is the pre-monsoon season when skies are usually clear and mountains in the Annapurna region can be seen more clearly this is the best time to do the Annapurna Base camp trek and Mardi trek. During the spring season, the weather is clear with temperatures ranging from 17-20 degrees Celsius during the daytime and 0-5 degrees Celsius at night. If you are trekking in Mardi Himal during spring, you may experience some light rainfall. For trekking, you may not need to carry many clothes due to warm and humid weather conditions.
During the summer, you can trek:
During this season, June, July, and August fall. The Annapurna region experiences a hot climate during these months since it is also known as the monsoon season. During the monsoon season, it almost always rains, making trails and routes muddy and slippery. It may be difficult to reach Mardi Base camp due to the wetness and slippery conditions while trekking. There is a mesmerizing view of natural beauty in the Annapurna region after the rain.
During the summer, you will be able to experience nature and capture the spectacular views of the mountain ranges in Mardi Himal. It is one of the least preferred times of the year to trek to the Mardi Himal in summer, so you will have the best trekking experience ever. It is a clear day with a pleasant sky, and the temperature varies between 17 and 20 degrees Celsius during the day and 5 to 10 degrees Celsius at night. There is a view of giant mountains as well as forest areas to be observed. There may be rainfall in the forecast, which may result in a clear sky and a breath-taking experience in the fresh air and cold weather. During this season, you should ensure that you have trekking boots, rain jackets, waterproof pants, and a backpack in case you plan to go trekking.
Trekking during the winter season
December, January, and February are the months during which this season occurs. Snow may cover most trails and paths during this month. Winter is characterized by a very dry and cold climate. The Annapurna region is covered with snow and provides a breathtaking experience similar to the Mardi Himal trek. During the winter season, teahouses and lodges in the Mardi Base camp compared to the Ghorepani Poon Hill may not be crowded. During the winter season, the weather is chilly and cold. There is a maximum temperature of approximately 10-12 degrees Celsius during the day in winter and a minimum temperature of 0-5 degrees Celsius at night. Cold air and rainfall may cause the common cold and other diseases. It is a breathtaking experience to stand on the peak of Mardi Himal in the Annapurna region, which is covered with snow. In this winter season, some may find it difficult to walk in a cold climate.
Leave a Comment