Gorakshep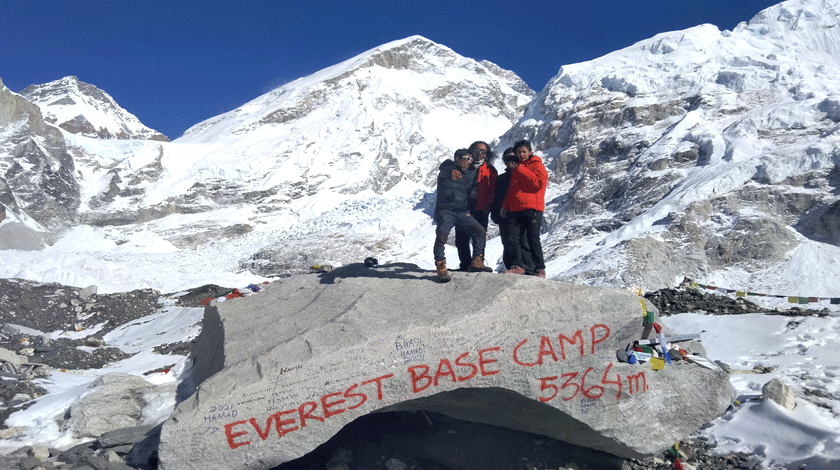 Exploring Gorakshep: Gateway to Everest Base Camp and Kala Patthar
Nestled in the heart of the magnificent Himalayas, Gorakshep serves as a pivotal point for adventurers and mountaineers who seek to conquer the mighty Everest. This remote village stands as the gateway to two iconic destinations: Everest Base Camp and Kala Patthar. Brace yourself for an unforgettable journey as we delve into the wonders of Gorakshep and the breathtaking experiences it offers
Gorakshep altitude
Gorakshep is a small settlement in the Khumbu region of Nepal, near Mount Everest. It is a popular stop for trekkers and climbers on their way to Everest Base Camp. The altitude of Gorakshep is approximately 5,164 meters (16,942 feet) above sea level. Keep in mind that altitudes in this region can vary slightly depending on the source of information and the specific location within the settlement.
Everest Base Camp: The Ultimate Adventure
Trekking to Everest Base Camp is the ultimate adventure for thrill-seekers and nature enthusiasts. The trail from Gorakshep leads you through rugged terrains, glacial moraines, and pristine valleys, as you follow in the footsteps of legendary mountaineers. The sense of accomplishment as you stand at the base camp, surrounded by towering peaks and the spirit of human triumph, is truly unparalleled.
Kala Patthar: A Panoramic Feast for the Eyes
For those craving awe-inspiring vistas of the Himalayan giants, a hike to Kala Patthar from Gorakshep is an absolute must. Ascending to an elevation of 5,545 meters, Kala Patthar rewards trekkers with jaw-dropping panoramic views of Mount Everest, Nuptse, Lhotse, and the surrounding peaks. The sunrise spectacle from this vantage point is a breathtaking symphony of colors that ignites the soul.
Gorakshep: The Tranquil Abode at the Foot of Everest
Gorakshep, the last inhabited village before Everest Base Camp, provides a serene haven for weary trekkers. Here, you can find cozy lodges and teahouses, offering warm hospitality and a chance to rest and recharge amidst the rugged wilderness. The village's unique location, nestled among towering peaks and surrounded by pristine beauty, creates an otherworldly atmosphere that adds to the allure of the journey.
Immersed in Natural Splendor
As you venture through Gorakshep, you'll be enchanted by the raw beauty of the surrounding landscape. Glacial lakes, dramatic ice formations, and picturesque valleys paint a vivid canvas of nature's grandeur. The sheer magnitude of the mountains and the ethereal stillness of the Khumbu Glacier evoke a sense of awe and reverence, reminding us of our place in this vast and majestic world.
Gorakshep, with its proximity to Everest Base Camp and Kala Patthar, is a haven for adventurers and nature lovers seeking an extraordinary experience in the Himalayas. From the thrill of reaching Everest Base Camp to the breathtaking views atop Kala Patthar, this remote village offers a gateway to some of the world's most iconic destinations. Immerse yourself in the untamed beauty of the Himalayas and let Gorakshep be your launching pad to a truly unforgettable adventure.
Gorakshep to Everest base camp distance
The distance from Gorakshep to Everest Base Camp is approximately 3.5 kilometers (2.2 miles). The trail takes you through a combination of rocky terrain, glacial moraines, and occasional snow patches. Although the distance may seem relatively short, it is important to note that the high altitude and rugged nature of the terrain can make the trek challenging. Trekkers should allow ample time and acclimatization to ensure a safe and enjoyable journey to Everest Base Camp from Gorakshep.
Gorakshep to Kala Patthar distance
The distance from Gorakshep to Kala Patthar is approximately 1.5 kilometers (0.9 miles). Although the distance may not seem significant, it's important to consider the steep incline and the altitude gain during this portion of the trek. The trail ascends to an elevation of 5,545 meters (18,192 feet), offering breathtaking panoramic views of the surrounding Himalayan peaks, including Mount Everest. The hike to Kala Patthar from Gorakshep is renowned for its stunning sunrise and sunset vistas, making it a must-do for trekkers seeking to capture the beauty of the Everest region.
Gorakshep temperature
The temperature in Gorakshep, like many high-altitude regions, can vary significantly depending on the time of year and the time of day. Generally, Gorakshep experiences cold temperatures throughout the year due to its high elevation. Here is an overview of the temperature ranges you can expect:
Spring (March to May): During spring, the daytime temperatures can range from around -5°C to 10°C (23°F to 50°F). However, nighttime temperatures can drop significantly, often below freezing, ranging from -10°C to -5°C (14°F to 23°F).
Summer (June to August): Summer is the monsoon season in Nepal, including the Everest region. The temperatures during the day can reach 5°C to 15°C (41°F to 59°F), while nighttime temperatures may hover around -5°C to 5°C (23°F to 41°F). The area receives a considerable amount of rainfall during this time.
Autumn (September to November): This is the most popular trekking season in the Everest region. The daytime temperatures can be pleasant, ranging from 5°C to 15°C (41°F to 59°F), while nighttime temperatures can drop to -10°C to -5°C (14°F to 23°F).
Winter (December to February): Winter brings extremely cold temperatures to Gorakshep. Daytime temperatures may range from -10°C to 5°C (14°F to 41°F), and nighttime temperatures can plummet to -20°C to -10°C (-4°F to 14°F) or even lower.
Keep in mind that weather conditions in high-altitude regions can change rapidly, and it is essential to be well-prepared for extreme conditions when visiting Gorakshep or any other high-altitude area. Dressing in layers and having appropriate cold-weather gear is crucial to ensure your safety and comfort during your visit.
---