Kathmandu to Lukla bus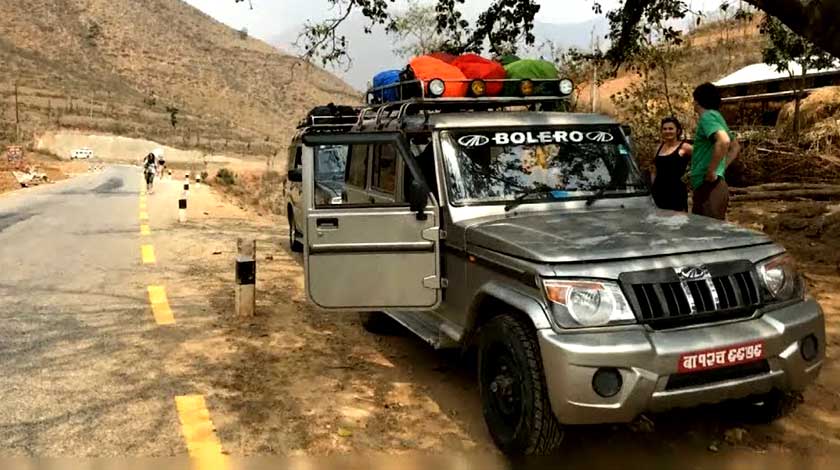 We Provide Jeep Tickets from Kathmandu to Lukla
There is no direct bus service or either Jeep from Kathmandu to Lukla as there are no roads that go all the way to Lukla. The only way to get to Lukla is to fly from Kathmandu to the small airport in Lukla, which is the gateway to the Everest region. However, if you want to reach the nearby town of Lukla, then you need to drive by jeep to Tham Danda near Lukla.
Kathmandu to Thamdanda jeep drive is the best way to explore the beautiful Himalayas. jeep driving between Kathmandu and Lukla, you will traverse some of the most magnificent valleys in Nepal. The journey starts from the hustle and bustle of Kathmandu, making your way through thickly populated areas before reaching the countryside around Mount Everest Base Camp or Gokyo valley. From here, the journey heads into more remote parts of the country, valleys full of rhododendron, meadows blanketed with wildflowers, and glaciers that soar into the sky. There are few places in the world where you can enjoy a panoramic view like this.
Kathmandu to Thamdanda-Bupsa by sharing tata sumo Jeep is one of the easy ways to get to Bupsa when the flight is delayed/cancel due to bad weather in Lukla, there are better options such as taking a jeep to Bupsa and starting your trek for the Three passes Trek or Everest Base Camp trek. There is no bus connection between Kathmandu and Lukla. Currently, the road ahead that leads to Lukla is located at Tham Danda, which is approximately 4 hours away from Lukla. The next day, you will have to hike for 4 hours from Tham Danda to Lukla.
The cost of hiring a Scorpio private Jeep from Kathmandu to Solukhumbu Salleri is $310. And also the cost of hiring a private Scorpio Jeep from Kathmandu to Thamdanda-Bupsa is $540. Currently, the cost for Tata Sumo is $250 to Salleri from Kathmandu, and for Bupsa is $400 per jeep. If you hire the jeep then the Jeep goes directly from Kathmandu to Bupsa, since Bupsa is the closest to Lukla, it takes 5 hours of hiking to get to Lukla from Bupsa. In the future, there are plans to build roads from Kathmandu to Lukla by bus
The daily departure Tata Sumo sharing Jeep tickets cost $20 per person, and the pickup cost is $5 per person, from Kathmandu to Phaplu, and from Kathmandu to Pupsa Jeep tickets cost $40 per person, and the pickup cost is $5 per person. The Jeep will pick you up from your hotel, wherever you stay in Thamel, so we do provide the Daily Sharing Jeep Ticket to an individual – group trekker from Kathmandu to the Phaplu – Salleri and Tham danda Bupsa. If you have a ticket from Kathmandu to Buksa then your jeep will change from Salleri due to a long drive, and it takes 20 hours to travel from Kathmandu to Buksa. The Departure time is 4.30 Am from Kathmandu and you will be in Bupsa at 10  or 11 pm. 
Kathmandu to Salleri-Lukla Bupsa / Thomdanda distance
You'll only have options to get to Lukla from Kathmandu if you don't want to fly, like taking a jeep to Buksa and hiking to Everest Base Camp. as the distance from Kathmandu to Salleri is 267.9 kilometers. The distance from Salleri to Lukla is 24  kilometers (from Salleri to Andheri, Andheri to Kharikola/Bupsa, Bupsa to Chaurikharka). It is worth mentioning that between Kurkot and Salleri, there is a road that is known as the Everest Express Road due to the amazing views of Mt. Everest.
If you need a guide or porter for your Trek then also, we have provided experienced guides and porters from Phaplu or Bupsa to Everest Base Camp trek; or 3 passes.  We have locals who always work with Nepal Wilderness Trekking Company from Bupsa, Phaplu, Jiri, and Lukla.
So, if you are searching for the price of Kathmandu to Lukla bus or Jeep, guide, and porters for the Khumbu region then we are ready to help you with making an easy journey for your Everest base camp trek.
Here are the lists of the cost details services.
Government licensed guide wage is

$ 30

per day.
Porter cum guide wage is

$25

per day.
Porter's wage

is $22

per day.
Sumo Sharing Jeep Ticket

$20

 per person to Salleri-Phaplu.
Sumo Sharing Jeep Ticket

$40

per person to Bupsa close to Lukla.
Pick up from your place /hotel

for $5.

per person

Hiring a private jeep cost Phaplu

$310.

per jeep

Hire a private jeep cost Bupsa $540.

 

per jeep

Kathmandu to Phaplu flight tickets cost

$190

per person.
Kathmandu to Lukla flight costs $195 per person.
Ramechhap to Lukla flight cost

$160

per person
Kathmandu to Ramechhap sharing tourist bus

$30

per person
The Local government plans road construction until Lukla and wants to facilitate easy access for domestic tourism from Kathmandu to Lukla Trek and from Lukla to Kathmandu.
Here are our Contact details Form, Cell Number / Viber / whatsApp+9779849693351. For Jeep Tickets booking, Guide or Porter Guide contract. Also, the Office Locations Maps make it accessible to visit us and chat about your requirements.
---