Kathmandu to Pokhara bus fare
Kathmandu to Pokhara bus fare
Kathmandu to Pokhara bus fare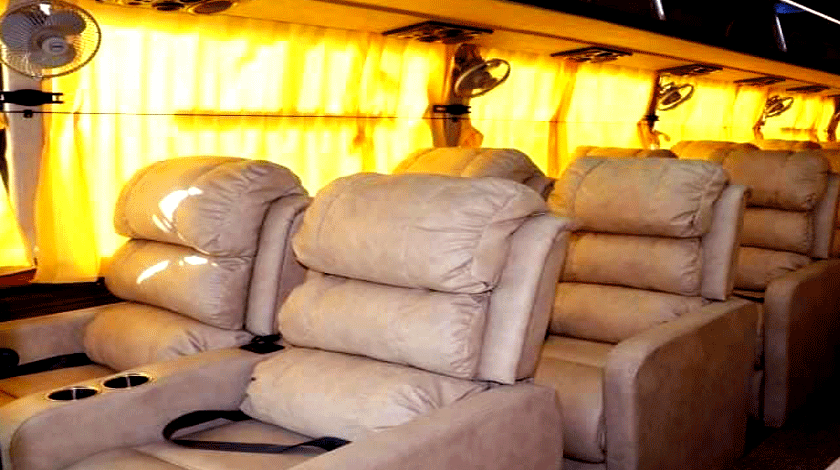 Tourist Bus tickets from Kathmandu to Pokhara in the Deluxe and Super Deluxe buses.
The Kathmandu to Pokhara bus fare is the most convenient way to travel to Pokhara overland. We offer tourist bus tickets to Pokhara for the Deluxe, Super Deluxe, and VIP Super Deluxe tourist buses. Many people prefer to travel by bus from Kathmandu to Pokhara over a flight because bus travel offers beautiful scenic views of the landscape, river, mountains, and small villages. It is important to note that all tourist buses are newer and the seats are more spacious in order to provide you with a comfortable ride. It is cheaper to travel by bus from Kathmandu to Pokhara than by private vehicle or by air. In order to ensure your safety while travelling, our buses are thoroughly cleaned and disinfected. We offer Pokhara Tour Packages in Nepal, which is a beautiful tourist destination.
We have very well-trained and professional drivers. Thousands of travellers visit Pokhara every day since it is the next most popular tourist destination in Nepal. Therefore, you may have difficulty obtaining tickets to the city. We recommend that you book your ticket in advance in order to avoid any problems in the future. There are several ways to pay for the ticket, such as cash, check, bank transfer, and Esewa (the most popular in Nepal). Please note that credit card payments have been suspended until the next update.
There is a tourist bus service available between Kathmandu and Pokhara. Tourist buses as well as regular buses are available. There is no better way to travel to Pokhara than by tourist bus. Our company offers tourist bus tickets from Kathmandu to Pokhara. There are several types of tourist buses available, including 1. A Deluxe, a 2. A Super Deluxe, a 3. There are four levels of VIP Deluxe. The Super VIP Deluxe and the 5. The Super Deluxe Bus is equipped with a toilet (rest room/washroom). Whenever you plan to visit Pokhara, you may choose any type of tourist bus. There are several types of buses, each with its own pricing and features. For Kathmandu to Pokhara, the lowest fare (price) is Rs. 1000 per person.
Pokhara is normally reached by 20 tourist buses per day from Kathmandu. Due to the fact that all Kathmandu to Pokhara tourist buses departs at 7:00 AM, reporting time is 06:30 AM. When travelling by tourist bus from Kathmandu to Pokhara, takes approximately seven hours. As the bus travels to and from Pokhara, it stops for 30 minutes to have lunch with hygienic food at the restaurant. Ticket payments can be made by cash, check, bank transfer, and Esewa (the most popular payment method in Nepal). About the Payment, We do accept credit card payments also but note that the 4 % is the bank will charge the combinations.
Bus timings from Kathmandu to Pokhara
Kathmandu to Pokhara Bus departs time at 7.00 AM. and Reporting time is 6.30 Am. 30 minutes before bus departure. this is the extra time that you need to load your bags on the bus and settle the seats.
here are the cost details.
Kathmandu to Pokhara bus fare Deluxe Tourist Bus tickets is $10 per person per seat and this bus departure at 7 Am From Sorakhutte, the Super Deluxe tourist bus cost is $12 per person per seat. this tourist bus also leaves same time from the Sorkhutter tourist bus stop.  there is one bus which is called VIP Deluxe tourist Bus, this bus ticket is $15 per person. also to back from Pokhara to Kathmandu is the same cost as listed on the sites. But if you want to book the flight to Pokhara then it cost U$D131 per person per way.
To book the tickets please contact us via WhatsApp at +9779849693351
If you are travelling to Pokhara by tourist bus, then there is a nice and clean lunch stop 3 hours from Pokhara to Kathmandu, there will be a lunch stop. Lunch at the buffet. The best dishes to eat are Chicken Curry, Biryani Rice Dal Cauliflower, or Nepali Set. There is a nice restaurant and a beautiful landscape to enjoy while having lunch, This makes a perfect combination.
Pokhara is the gateway to the Annapurna Region trek. Situated beside the dramatic Phewa Lake, it offers breathtaking views of the snow-capped Annapurna range. To visit Pokhara either you have to fly or by bus. There are several beautiful trekking destinations closer to Pokhara. More popular trekking is Poon hill trek which you can do within a 3-night 3 days hike, also there are panorama vire trek called Mardi Himal trek which is can do within 5 days. And one is the papular Annapurna base camp trek, this one can do within 7 days too if you go same directly and back the same way. If you do round via Ghorepani then it takes 12 days to circuit.
Driving from Kathmandu to Pokhara by car
We offer a private car rental service from Kathmandu to Pokhara or Pokhara to Kathmandu at a very reasonable price. For your trip to both cities, we provide car rental services with a driver. There are different models of vehicles from international brands such as Toyota, Kia, Mercedes Benz, Ford, and Skoda, as well as other brands with capacities ranging from 4 to 7 passengers. The distance between Pokhara and Kathmandu is approximately 6-7 hours by car. The car is equipped with a drinking water system and an air conditioning system.
Taking the Hiace/Big Van from Kathmandu to Pokhara
We Arrangements are being made for a big van which will accommodate 10-15 people in a group. Mostly, the Hiace is used to travel from Pokhara to Kathmandu. Crossing the distance between Pokhara and Kathmandu takes about 6-7 hours. Kathmandu – Pokhara Hiace rental cost is based on a private group tour.
Cost details to hire a private vehicle.
Car is $110, Jeep cost is $150, Hiace cost is $200, 22 seater tourist bus is $300.