Mandatory to hire guide for trekkers
Mandatory to hire guide for trekkers
Mandatory to hire guide for trekkers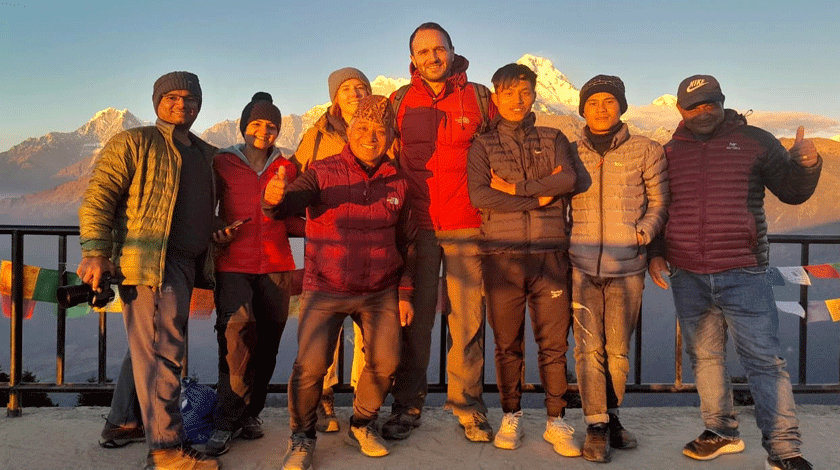 ---
Mandatory to hire a Guide for trekkers in Nepal:
Yes, it is mandatory to hire a licensed guide for trekkers in Nepal from April 1st. The new rule applies to all trekkers, including individual trekkers and those traveling in groups. The decision was made by the government of Nepal to enhance the safety and security of trekkers in the country's popular trekking destinations. All tourists trekking in Nepal's Himalayan region are required to hire local assistance, according to officials. According to the DPA news agency, the rule will come into effect on April 1st in order to ensure the safety of travelers and create more jobs.
The government has implemented this rule to prevent accidents and incidents that have occurred in the past due to a lack of knowledge and experience in trekking. The licensed guides are trained and experienced in handling emergencies, such as altitude sickness, injuries, and other trekking-related issues, and can help ensure a safe and enjoyable trekking experience.
The licensed guides have completed a comprehensive training program and hold a license issued by the government of Nepal. They are also familiar with the trekking routes, the local culture, and traditions, and can provide valuable insights into the region's flora and fauna.
While this rule may increase the cost of trekking in Nepal, it ensures that trekkers have a safe and enjoyable trekking experience while supporting the local economy. Licensed guides and porters are an essential part of the trekking industry in Nepal, and hiring them provides employment opportunities for the local people.
Therefore, it's important to hire a licensed guide for your trek in Nepal and follow the guidelines set by the government to ensure a safe and enjoyable trekking experience.
Our Nepal Wilderness Trekking Pvt guide team is here for you If you are planning to do any Trek of Nepal with Expert guides and porters feel free to contact us at any time for our prompt response. Having an expert guide with you can be an advantage, as they can provide valuable insights into the trekking route, the local culture, and traditions, and help ensure your safety during the trek.
Guide for Everest Region:
Hiring a guide and porter for trekking in the Everest region is a wise decision as it can enhance your overall trekking experience and make your journey more comfortable and safe. For the Cost and more info, please visit the guide hire from Lukla.
Guide for Manaslu Region:
If you are planning a trek in the Manaslu region of Nepal, we are here to your help you with this trek. A local guide can provide valuable knowledge about the culture, history, and environment of the area, as well as ensure your safety and well-being throughout the Manaslu circuit trek.
Guide for Annapurna Region:
You should hire a guide in the Annapurna region to ensure your safety and enjoyment during your Annapurna trek. You can have a memorable and fulfilling trekking experience in Nepal by choosing a reputable trekking company and a knowledgeable guide from Nepal Wilderness Guide Team.
Please note that these wages are subject to change based on the experience, skillset, and demand of the guide or porter, as well as the duration and difficulty of the trekking region.
Trekking guide wages are $30 per day
Porter-Guide Wages is $25 per day
Porter's wages are $22 per day
One-time Official services charge and Government tax are $30 per person.
These Costs are including meals, accommodation, insurance, and equipment for them in Normal trekking regions like Annapurna, Everest, and Langtang Except the restricted region.
---