Trekking Guide Hire in Nepal
Trekking Guide Hire in Nepal
Trekking Guide Hire in Nepal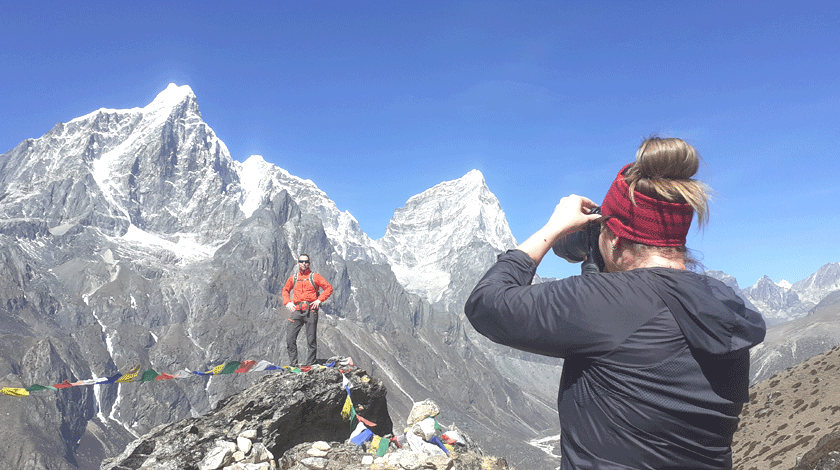 Trekking Guide Hire in Nepal
Hiring Professional Trekking Guides in Nepal: Your Gateway to Himalayan Adventure with Nepal Wilderness Trekking In the vast expanse of the universe, there exists a singular haven for avid trekkers, and that is the breathtaking Himalayan realm of Nepal. If your heart longs to fulfill the dream of embarking on an unforgettable trek, we stand ready to offer you a treasure trove of excellent and seasoned trekking guides, eager to accompany you on your journey. Our Nepal Wilderness Trekking guides and porters embody professionalism, experience, trustworthiness, friendliness, and a deep sense of responsibility. For a truly safe and secure trek to iconic destinations like the Everest Base Camp, Annapurna Base Camp, Langtang Valley, and more, it is imperative to enlist the services of a guide or a porter-cum-guide from Nepal Wilderness Trekking. We believe that hiring a guide or porter-cum-guide is not just about ensuring a successful trek; it's about contributing directly to the livelihoods of local guides, porters, and their families, and supporting the education of their children.
The Essential Role of a Guide
Some trekkers hold the misconception that a guide's role is limited to trail navigation. However, in reality, a guide is a walking repository of hiking wisdom – an organizer, an assistant, a helper, a conduit to local communities, a master of the terrain, and a friend who can come to your aid in moments of mountain adversity. Picture yourself in the heart of the Himalayas, in the dead of night, facing an emergency – your Nepal Wilderness Trekking guide will sprint to procure the fastest possible assistance, arrange swift rescue operations, and take care of your well-being amidst the towering peaks. Beyond this, a guide can unveil hidden gems, share insights into traditions, cultures, and religions, reveal shortcuts, and consult with locals about route conditions, thereby enhancing the beauty and memorability of your holiday. Moreover, our guides are not just seasoned professionals; they are rigorously trained and certified by the Government of Nepal, Ministry of Civil Aviation and Tourism. For treks into Nepal's remote corners, we strongly recommend hiring a guide or, at the very least, a porter-guide as part of your trekking arrangements.
In the context of restricted trekking areas such as the Manaslu circuit, Tsum Valley, Upper Mustang, Upper Dolpo, Kanchenjunga, or Nar Phu Valley. hiring a guide is not just a recommendation but a mandatory requirement for safety. Even in other renowned trekking regions like Everest, Annapurna, and Langtang, we discourage solo trekking or trekking without the accompaniment of a guide or porter. Over the past two decades, there have been very few instances of trekkers losing their lives when accompanied by a guide or porter. To ensure your safety and to savor the best possible trekking experience in Nepal, we strongly advise securing both a trekking guide and a porter.
Our Regional Expertise
Our team is strategically positioned with regional-based trekking guides across Nepal. If your adventure leads you to the Everest region, we have dedicated Nepal Wilderness Trekking guides to escort you through this majestic terrain. During the peak trekking season, you can also find our guide and porter in Lukla, the gateway to Everest. For those drawn to the allure of the Annapurna region, our guide services are readily available in Pokhara. Importantly, hiring guides and porters from these regions incurs no additional flight or ground transportation expenses.
Understanding the Role of a Trekking Guide
Our trekking guides are not mere trail navigators; they are your companions on a journey through the high Himalayan trails, serving as custodians of regional knowledge. Often, our guides are passionate outdoors enthusiasts, well-versed in the flora, fauna, and indigenous inhabitants of the area. Nepal Wilderness Trekking Guides are particularly renowned for their outstanding communication skills, social acumen, commitment to customer safety, and organizational prowess.
Cost Details for Trekking Guide and Porter Hire
Everest Region:
Government Licensed Guide: USD 30 per day
Porter/Guide: USD 25 per day
Porter: USD 22 per day
Government Tax + Service Charge: USD 30 (one-time fee per person)
Manaslu and Tsum Valley:
Government Licensed Guide: USD 35 per day
Porter: USD 25 per day
Government Tax + Service Charge: USD 50 (one-time fee per person)
Annapurna Region:
Government Licensed Guide: USD 30 per day
Guide/Porter: USD 25 per day
Porter: USD 22 per day
Government Tax + Service Charge: USD 30 (one-time fee per person)
Langtang – Helambu Region:
Government Licensed Guide: USD 30 per day
Guide/Porter: USD 25 per day
Porter: USD 22 per day
Government Tax + Service Charge: USD 30 (one-time fee per person)
Your Himalayan adventure beckons, and with our seasoned Nepal Wilderness Trekking guides and porters by your side, you can navigate these awe-inspiring landscapes with confidence and ease. Trekking in Nepal is not just a journey; it's a life-altering experience, and our dedicated team is here to ensure that your adventure is nothing short of extraordinary. Embark on your dream trek, explore the Himalayas, and immerse yourself in the rich tapestry of Nepal's natural beauty and cultural heritage. Hire a guide, embark on the journey of a lifetime, and create cherished memories that will last a lifetime.
---