Trekking Guide Hire in Nepal
Trekking Guide Hire in Nepal
Trekking Guide Hire in Nepal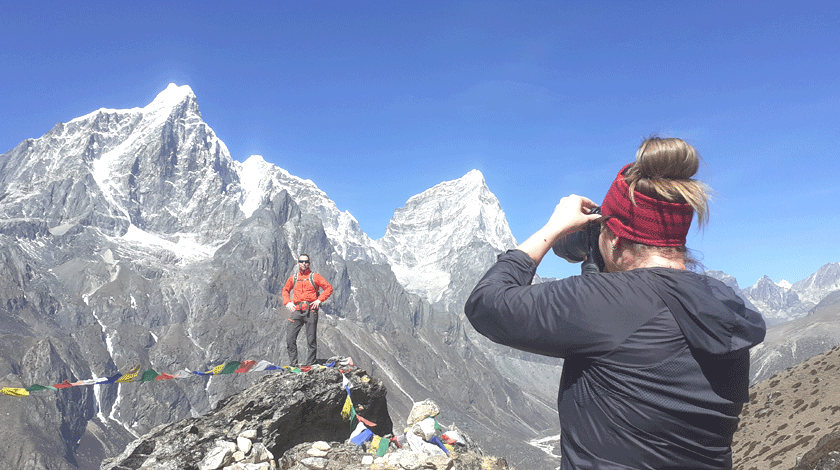 Trekking Guide Hire in Nepal
In this universe, there is only one heaven for trekkers, (that is the Himalayas land of Nepal) and if you wish to complete your dream trek once in your lifetime, then we are always available to Excellent and experienced trekking guides to Hire for your destinations. our Guide and Porter are professional, experienced, trustworthy, friendly, and responsible. at least hiring one porter cum guide or porter is essential for a safe and secure for your Nepal ultimate trek to  Everest Base Camp, Annapurna Base Camp, Langtang Valley, etc, Hiring a guide or porter cum guide is essential for a trekking trip in Nepal. Just pay some dollars as a guide wage and make sure that your holiday is enjoyable. Another hand, hiring a guide and porter is a good way to go your help directly to the Local guide income which is a great source for the guide and porters' families' safe, and kids' studies help. There are standby guides, porters cum guides, and porters in Kathmandu, in Lukla for Everest Area Trekking, and in Pokhara for Annapurna Trekking. Syabrubesi for lanftang trek.
There is a common misconception among trekkers that a guide's job is only to show the trail, but in reality, a guide is a storehouse of hiking knowledge, an organizer, an assistant, a helper, a medium with the local people, a master of the area, and a friend who is able to help you if you are seriously ill in the mountains. In the middle of the night, even if you are in an emergency, your guide will run down to get you the fastest help possible to help arrange a fast rescue and take care of you in the high mountains. In addition, a guide can show you the places of interest, describe the tradition, cultures, and religions, show you a shortcut trail, and ask the locals about the route condition, making your holiday more beautiful and memorable. In addition, our guides and ourselves are highly experienced and well trained by the Government of Nepal, Ministry of Civil Aviation and Tourism, and we are dedicated to our work. In order to trek in the remote parts of Nepal, we recommend that you hire a guide or at least a porter guide as part of your trekking arrangements.
of course, it is mandatory to hire a trekking guide to trek in Restricted trekking areas such as the Manaslu circuit, Tsum Valley, Upper Mustang, Upper Dolpo, Kanchenjunga, or Nar Phu Valley. For safety reasons, recommend hiring a guide and porter from a registry local agency even to trek in other regular famous trekking areas such as Everest, and Annapurna Langtang even without a trekking guide or porter. it is not recommended to trek alone or without a guide or porter. In the last 20 years, there have been very few trekkers who have lost their lives while trekking without a guide or porter. For your safety and to have the best trekking experience in Nepal, it is highly recommended that you hire both a trekking guide and a porter.
We have regional-based trekking guides in Nepal if you are planning a trek in the Everest region. We also have a guide and porter in Lukla during the season. We also provide guide services from Pokhara if you are interested in exploring the Annapurna region. The guide and porter do not require any additional flight fares or ground transportation if you hire from these sectors
What is the role of a trekking guide?
We have our trekking guides who are able to guide you through the high Himalayan land trails while sharing their knowledge of the area with you. It is quite common for our guides to be outdoor enthusiasts with extensive knowledge of the flora, fauna, and inhabitants of a particular region. Nepal Wildness Trekking Guides are well known for their excellent communication skills, social skills,  customer safety, and organizational abilities.
Trekking Guide and Porter Hire cost detail
Everest Region:
Government licensed guide: U$D 30 per day
Porter/Guide: U$D 25, per day
Porter: U$D 22 per day
Government Tax + service charge U$D 30 one time per person
Manaslu and Stum valley:
Government licensed guide: U$D 35 per day
Porter: U$D 25 per day
Government Tax + service charge U$D 50 one time per person
Annapurna Region:
Government licensed guide: U$D 30 per day
Guide/porter: U$D 25, per day
Porter: U$D 22 per day
Government Tax + service charge U$D 30 one time per person
Langtang – Helambu Region:
Government licensed guide: U$D 30 per day
Guide/porter: U$D 25, per day
Porter: U$D 22 per day
Government Tax + service charge U$D 30 one time per person
---