Gretag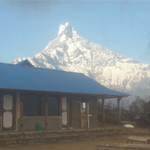 Through a super helpful blog written by a hiking couple, I came across Nepal Wilderness Trekking online. I was looking for a company run by Nepali people with Nepali guides, and I couldn't be happier with my experience. After I emailed the company, the owner Himal replied within maybe a half hour. Throughout the interview, he provided me with all of the information I could possibly need regarding different trekking options, departures, and costs.
I went to meet Himal as soon as I reached Kathmandu, as I was traveling alone and I wanted to be extra sure about whom I was putting myself in the hands of and I had so many questions to ask. Himal could not have been more kind to me. In addition to clearing all of my doubts, he was extremely informative and just made me feel excited about the trek.
I changed my trek two days before departure (from 3-days Poon Hill to 5-days Mardi Himal Base Camp) because I wanted something more challenging. Although I was booked for a solo trek, Himal was super accommodating and changed my trekking logistics despite the short notice.
Regarding the trek itself: I cannot recommend this company and its guides highly enough. The guide that I had, Yakhub, was outstanding from start to finish. I met him at the airport in Pokhara, he bought us some fresh fruit and we started our journey. Yakub assisted me in every way possible during the trek when I felt sick and unmotivated, as it's quite hard on the body, and they were there to support me in every way possible. In addition to ensuring that I felt comfortable and that I was moving at a pace that suited me, he always made me laugh and uplifted my spirit when I couldn't be bothered walking, and he always met me with a hot cup of tea when I was in need. He also spoke to me about any possible curiosity I may have had about Nepal, trekking in its mountains, and the fascinating culture this country has to offer. I came back from this trek a couple of weeks ago, and I can't wait to book my next trek with the company.