Nasser and Davide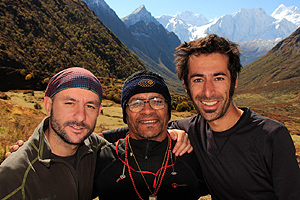 Manaslu larke pass trek
There are things you play within your mind for a long time before you can step into. I was dreaming of Manaslu trek for many years, and when finally the opportunity came I was both excited and stressed. The stress was the result of the high expectations.
I'm one of those guys that organize his trips independently. The reason is quite simple, especially in the mountains I prefer not to be bothered by the problems and constraints that can arise when relying on guides or agencies. But this time I had no choice, the guide was mandatory. Luckily I found Himal (one of the more reliable and honest agencies in Kathmandu in my experience) who took care of the bureaucratic side.
When I was introduced to Bir that was going to be our guide, the actual person that could have turned our coming days for the good (on a trek you spend a lot of time with your team mates!). And actually, he was central to our experience. He was always careful about our needs (helping even beyond his duties)and genuinely open to our ideas and request (never pushed us faster or slower than what we intended to do).
One of the sweetest person I ever had the opportunity to share a trek with. I would definitely recommend both Himal and Bir. Excellent each in their work. I'm sure the same trip would not have been as pleasant without their support and guidance.