Bishal Gurung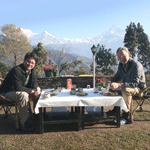 Namaste!
I am Bishal Kumar Gurung, hailing from the beautiful village of Annapurna 8 in Mohoriya, Kaski. It brings me immense pride to have been born in the Annapurna area, a region renowned for its breathtaking natural beauty. For the past 11 years, I have dedicated myself to the profession of guiding and sharing the wonders of this magnificent region with visitors from around the world.
With a government license as a guide, I specialize in the Annapurna area, a place close to my heart. The Annapurna region is a treasure trove of natural marvels, including the majestic Annapurna peaks, tranquil lakes, and diverse flora and fauna. As your guide, I will be your companion, sharing my knowledge and love for this region, ensuring your safety, and providing an unforgettable trekking experience.
In addition to my passion for trekking and guiding, I hold a Bachelor of Science degree in Physics from Tribhuvan University. While science has always fascinated me, my deep-rooted interest in eco-tourism has led me to focus on environmental conservation. I strongly believe in the importance of preserving the natural beauty and ecological balance of our beloved Annapurna area. By promoting sustainable practices and raising awareness about environmental conservation, I aim to contribute to the long-term preservation of this pristine region.
Your journey with me goes beyond exploring the awe-inspiring landscapes of the Annapurna area. It is an opportunity to immerse yourself in the rich cultural heritage, witness the harmony between humans and nature, and support efforts towards preserving this remarkable ecosystem.
I am thrilled to have the chance to guide you through the wonders of the Annapurna region, sharing stories, connecting with nature, and fostering a deep appreciation for our environment. Together, we can make a difference and create memories that will last a lifetime.
Thank you for choosing me as your guide, and I warmly welcome you to the Annapurna area. Let's embark on an unforgettable journey while promoting eco-tourism and environmental conservation.
Namaste and see you soon!
Bishal Kumar Gurung