jeep to Chame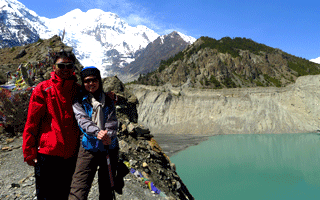 Jeep to Chame -Manang District
jeep to Chame for Annapurna Circuit Thorong la Pass trekking. Annapurna circuit trek is very popular Trekking destinations of Nepal, Kathmandu to Besisahar by local bus its take the 5 hours and 173 Kilometres from Kathmandu to Besisahar and Besi-Sahar to Chame is 66 Kilometres, Jeep takes 4 hours driving to Chame,
there are road until Manang but it is not good idea drive to directly Manang because of not enough acclimatization for the trekkers, better to drive by jeep to Chame and trek to Pisang, Manang and rest day in Manang, after Manang either site visit Tilicho lake or direct throng La pass and fly to Pokhara from Jomsom.
also, the bus is available from Jomsom to Kathmandu direct, it takes 13 house driving and 357-kilometres from Jomsom to Kathmandu, or flight to Pokhara and take a bus to Kathmandu,
Cost OF Jeep to Chame
jeep to Chame from Besisahar is expensive if you reserve, there are sharing jeep also available but not in our time, we have to wait for other local passengers, reserve jeep cost will be $250 from Besi-Sahar to Chame, and Jomsom to Kathmandu bus tickets is Rs 2000 per person.
Nepal wilderness trekking lead Monsoon trek which is called rainshadow guide trek itinerary
Leave a Comment