champa devi hike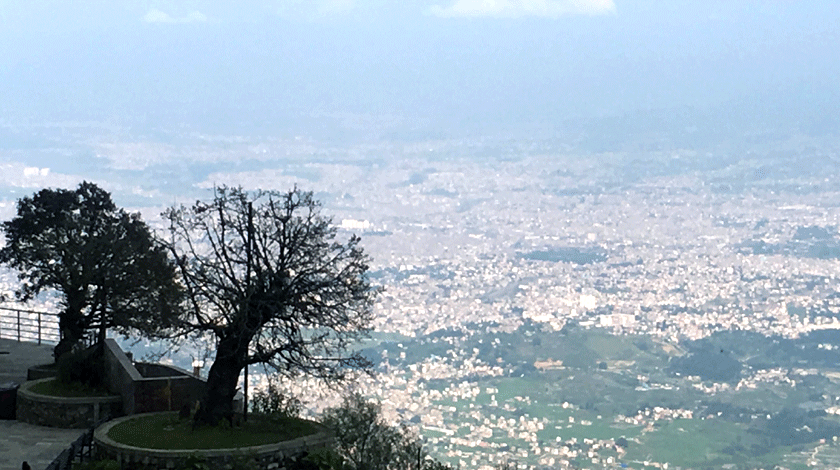 Hiking to the Champa Devi Temple in Kirtipur
One of the most famous hiking trails in the Kathmandu Valley is the Champa Devi Hiking. There are three hills in the Kathmandu valley, Nagarjun Hill, Champadevi temple, and Shivapuri Hill. Champadevi/Bishnudwar is the third tallest hill closest to Kathmandu valley. It stands at 2278 meters in height.
Chapman Devi Day Hiking is a great way to see Kathmandu Valley, Lalitpur, and Bhaktapur districts, as well as mountain ranges such as Mt. Everest, Annapurna, Langtang, Gaurishanker, etc. When a visitor has very little time to spend in Nepal and wants to see the whole Kathmandu valley or he would like to see the panoramic view of many beautiful mountains or would like to travel to remote areas or would like to go to the highlands, Champa Devi is the best option.
Champa Devi temple hill also allows you to see the Bagmati River, Bugmati, Khokana, and Pharping, which are historical sites in Nepal. On your right is Fulchoki hill; on your left is Chandra Giri, which is the highest hill in Kathmandu Valley. We rest after we reach Champa Devi and eat food we brought from Kathmandu, such as cookies and junk food.
Hiking itinerary to Champa Devi hill.
Champa Devi hike distance is 19 km total, 2 hour drive, and a 4-hour hike distance from Kathmandu Thamel. Champa Devi is a height of 2278 meters and the tour begins after driving an hour to Pharping village. A lush pine forest trails the hiker after leaving the monastery and village of Pharping. The hike to the top will take two and a half hours. It is mostly a ridge walk narrow trail.
Champa Devi hike Experience
As you descend from Champa Devi temple, you can continue to the western peak of the fishtail hill- which is actually quite tall at 2286m. Following a well-made path down to a saddle and then up to a higher peak (2509m), you can continue west along the ridge for another hour (or less). One more ridge climbs southward for an hour or so up to the highest peak of the range, Bhasmesur (2620m) – said to be the remains of a demon incinerated by Vishnu. A path turns north off Bhasmesur Spur (the actual ridge line is unclear around here, thanks to the illegal charcoal-burning pits), dropping steeply down to the village of Machegaon (90 min descent) from where various trails and roads lead back to Kirtipur.  
Price per person for Champa Devi hike
1 – 2 US$100
3 – 5 US$ 70
6 – 12 US$ 50 
The cost includes both-way drives, a guide, and lunch.
For more info, WhatsApp +9779849693351, E-mail:  himalghale99@gmail.com
Champadevi is a popular hiking destination near Kathmandu, Nepal. Here are some tips to help you plan your hike:
Start early: It is recommended to start your hike early in the morning to avoid the heat of the day and to allow ample time for the hike.
Check the weather: Make sure to check the weather forecast before starting your hike. The weather in the mountains can be unpredictable, and it's important to be prepared for any weather conditions.
Carry enough water and food: Carry enough water and food for the hike, as there are limited options for food and water along the trail.
Wear appropriate clothing and footwear: Wear comfortable and breathable clothing and sturdy hiking shoes. The trail can be steep and rocky, and it's important to have good footwear to avoid slips and falls.
Bring a camera: The Champadevi hike offers stunning views of the Kathmandu valley, so make sure to bring a camera to capture the beauty of the landscape.
Respect the environment: Make sure to carry your trash with you and avoid littering on the trail. Also, respect the flora and fauna along the trail and avoid disturbing them.
Hire a guide: Hiring a guide is not necessary for the Champadevi hike, but it can enhance your experience by providing valuable information about the local culture, history, and environment.
Overall, the Champadevi hike is a great option for those looking for a day hike near Kathmandu. It offers a good workout and stunning views of the Kathmandu valley. Just make sure to plan and prepare carefully for a safe and enjoyable hike.
---