Kathmandu Trek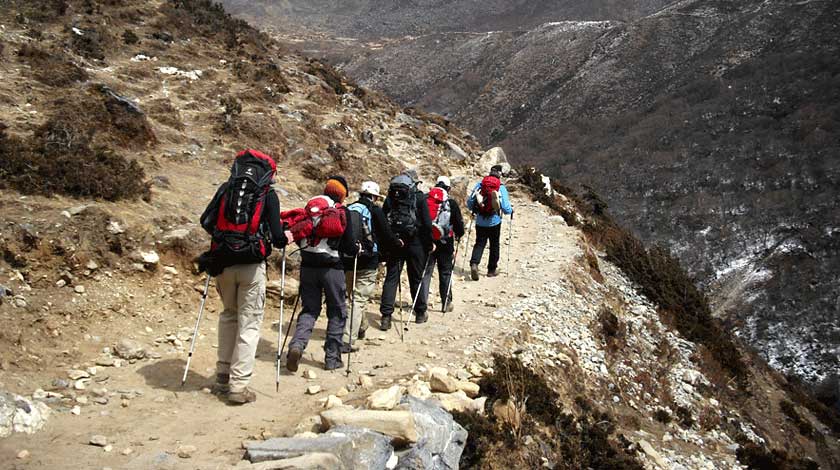 Kathmandu trek
Kathmandu trek is the closest and shortest hiking trek surrounding the valley of Kathmandu. You can choose to go on a two-day, three-day, five-day, or seven-day short trek. On a short hike around Kathmandu short trek, you can enjoy spectacular mountain views and rural Nepali villages without having to travel too far from the capital. Furthermore, you will not be confronted with altitude sickness, a problem that plagues a lot of other treks in the country. It is the Nepalese city of Kathmandu that is the main point of departure for any Nepalese Himalayan Trek, whether it is the Himalayan Short Adventure trek or Ultimate high passes Experience adventure with a mountain peak climbing expedition.
There is a short trek near the city of Kathmandu that will give you a taste of the authentic Nepalese way of life if you're looking for a short trek that can jump from Kathmandu city. The route passes through the village of Mulkharka Sundarijal and the name of the trek is Chisapani Hike, which offers stunning views of Mount Everest and the Annapurna mountain range views.
Kathmandu trek offers limitless opportunities for captivating views, from short treks to long treks in Nepal. Here is a link and information on the page that lists all the trek options, which range from 2 nights to 3 days to 5/6 nights to 7 days. Here are some tips to consider before you set out on a 4 or 5-day short Kathmandu trek.
What to do in Kathmandu for 5 days?
The Kathmandu itinerary for five days includes cultural and natural visits to seven World Heritage Sites within the Kathmandu Valley. This valley has a wealth of cultural and religious sites in it, which is why it is listed as seven World Heritage Sites. It is well known that Kathmandu, as well as Patan and Bhaktapur, are the homes of a large number of Newar communities who follow their traditional lifestyles and enjoy their festivals daily. During the 2-night 3 3-day Chisapani Nagarkot hike, you can see Mt Everest views, as well as many other mountain landscapes. In addition to the mountain view from Kathmandu, you will also be able to see it from the Chisapani hike, but it will be closer to the Himalayan scenery.
Additionally, the hills surrounding the valley have a huge variety of landscapes and terrains, as well as forests that are unique. Like a hidden treasure of the Himalayas, these forests are home to a wide variety of flora and fauna. In addition to that, the high hills offer the opportunity to observe the finest views of the mountains, including sunrises and sunsets.
Where can I find trekking near me?
Near Kathmandu, there are plenty of trekking places to choose from. In the mountains surrounding Kathmandu, short day hikes can be enjoyed as well as traditional villages and scenic hillsides. Among the most popular day trips is watching the sunrise at Nagarkot in the early morning, followed by a leisurely (mostly downhill) hike to the UNESCO World Heritage-listed Changu Narayan Temple in the afternoon. You can go on a close day hike called Kakani if you would like to explore a part of Nepal that most tourists miss. In Shivapuri, you can trek through pine forests and sample local specialties such as rainbow trout. On the other hand, the recently developed trail from Sanga to Panauti passes through small villages that are seldom frequented by foreign tourists. Or Chisapani Nagarkot Trek for two nights and three days, Langtang Trek for five days, and Helambu Trek for seven days.
The closest trekking areas to you include 2 nights 3 days Poon Hill Trek, 2 nights 3 days Panchase Trek, 5 days Mardi Himal trek, and 7 days trek to Annapurna Base Camp. on the way there to Annapurna base camp, It is also possible to take a dip in the local hot springs and relax by bathing at the riverside.
Short and soft treks near Kathmandu
The following are a few popular Kathmandu treks listed in Nepal, in case you are a new hiker who isn't familiar with the area and would like some advice on which trek to choose in Kathmandu.
Here are the lists of the more popular doable treks in the Everest region
We have listed below a list of challenging tent trekking destinations, as well as traditional tea house-restricted areas, in Nepal. You need to be physically fit, mentally prepared, and ready, regardless of whether they're accessible by means of natural infrastructure, difficult remote access, or whatever, in order to successfully experience these adventures
Looking for a day hike near you?
It is one of the most Nepalese day hiking routes, it is more hike-able, and it is closer to one of the most amazing destinations in Kathmandu such as NAGARKOT, SIVAPURI, Kakani, and NAGARJUNA than other such walks. The hotel is located in the heart of Kathmandu.
Nepal Wilderness Trekking (Pvt.) Contact Us
---